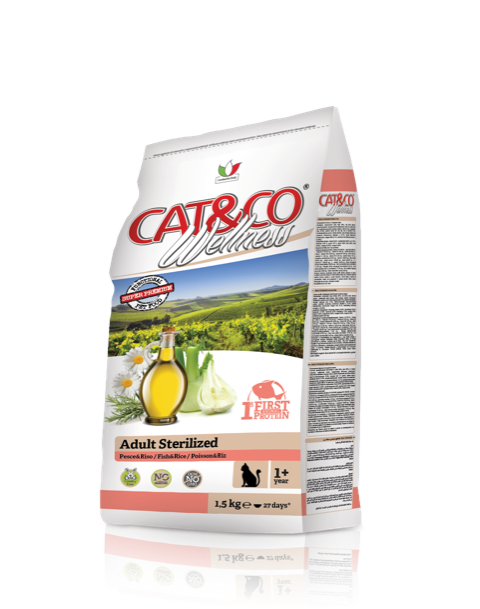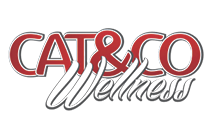 Adult Sterilized

Fish and rice
Adult Sterilized - Fish and rice is a food designed to meet the nutritional needs of sterilized adult cats. Good content of fiber, L-Carnitine and balanced levels of minerals to maintain a correct weight and for the proper functioning of the kidneys. Blue fish to naturally support skin and coat health.








Healthy skin / shiny coat

Format, composition and instructions for use
FORMAT 0,4kg, 1,5kg or 10kg
COMPOSITION dehydrated fish proteins (24%), rice (20%), wheat, maize gluten, dehydrated animal proteins, animal fat, dried beet pulp, brewers'yeast, vegetable fibre, fructo-oligosaccharide (FOS), dried beet pulp, fish oil, maize oil (1,5%), sodium pyrophosphate, potassium chloride, yucca schidigera, dried rosemary (Rosmarinus officinalis L.) (0,1%); dehydrated fennel (Foeniculum vulgare Mill) (0,1%); dried camomile flowers (Matricaria recutita L.) (0,04%).
ANALYTICAL CONSTITUENT Wet 9,00%, crude protein 35,00%, crude fat 11,00%, crude fibres 4,00%, crude ash 7,00%, calcium 0,95%, phosphorus 0,80%, magnesium 0,08%, omega-6 2,90%, omega-3 0,90%.
NUTRITIONAL ADDITIVES Vitamin A 31.000 IU – Vitamin D3 1.600 IU – Vitamin E 370,00 mg – Vitamin B1 6,50 mg – Vitamin B2 20,00 mg – Niacin (Vitamina B3) 45,00 mg – Vitamin B6 10,00 mg – Biotine 0,28 mg – Vitamin K 1,00 mg – Vitamin B12 0,09 mg – Folic Acid 1,00 mg. – pantothenic acid 27,00 mg – Vitamin C 200,00 mg – Beta-carotene 30,00 mg – Coline chloride 1.500,00 mg – Taurine 2.200,00 mg – Metionine 1.000,00 mg- L-Carnitine 100,00 mg – Iron (iron (II) sulphate monohydrate) 235,00 mg – Copper (II) sulphate pentahydrate 11,00 mg – Manganese (manganese sulphate monohydrate) 41,00 mg – Zinc (zinc sulphate monohydrate) 177,00 mg – Iodine (calcium iodate anhydrous) 0,65 mg – Selenium (sodium selenite) 0,42 mg
INSTRUCTIONS FOR USE Dispense daily, according to the feeding table shown on the back of the pack always providing the cat with a bowl of clean and fresh water. Change gradually if switching from another product. Make subtle adjustments to the amount mentioned on the table, based on the physiological condition of the cat, its activity and environmental conditions. Store in a cool, dry place.
Proper nutrition guarantees your dog the right amount of nutrients and the
guarantees better health conditions for a longer life
Every age

| | | | | | | | |
| --- | --- | --- | --- | --- | --- | --- | --- |
| Adult weight | 2 kg | 3 kg | 4 kg | 5 kg | 6 kg | 7 kg | 8 kg |
| Ration in gr | 30 | 45 | 60 | 70 | 80 | 90 | 100 |
Adult Sterilized

Fish and rice