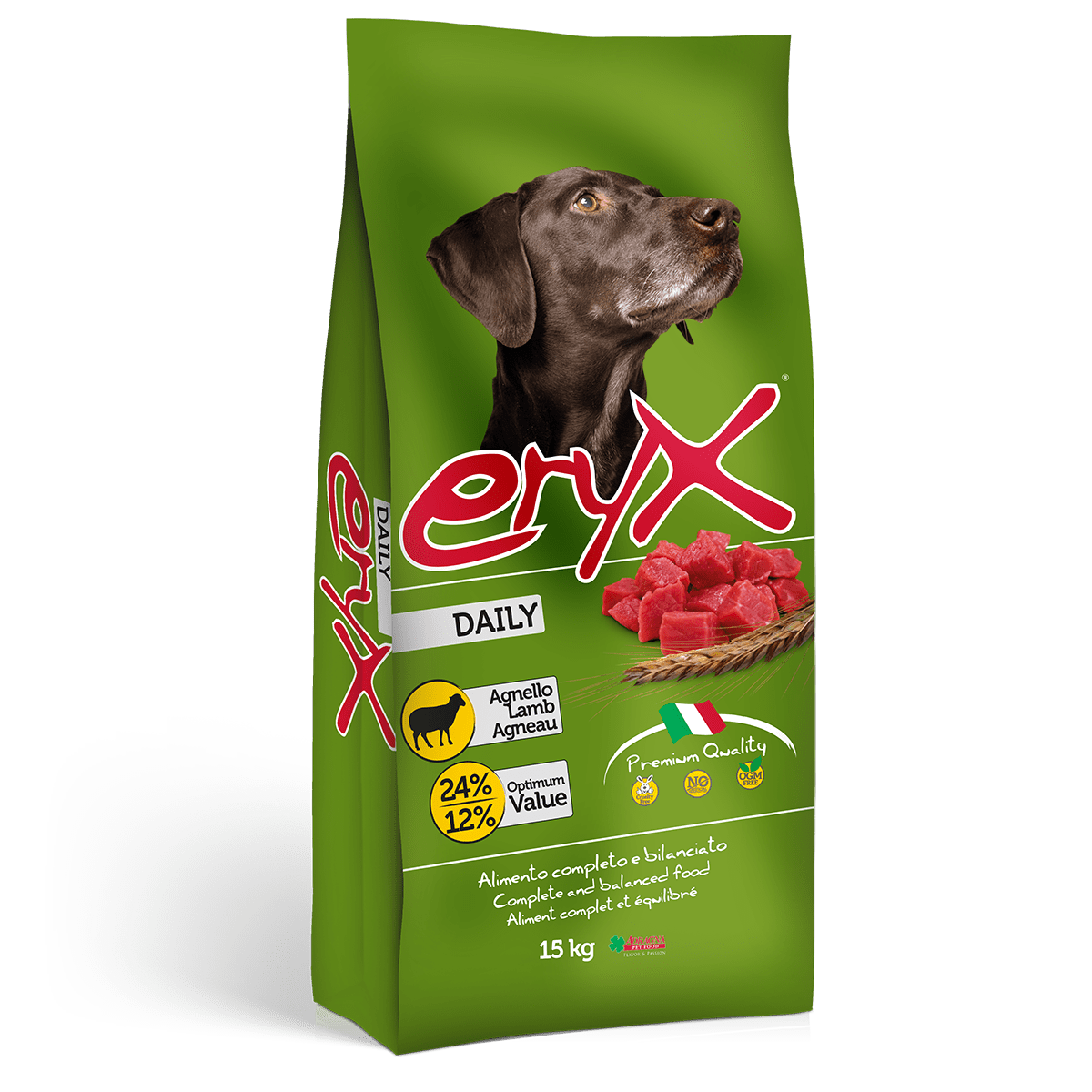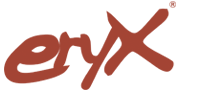 Eryx Daily - Lamb is a complete and balanced food ideal for adult dogs with normal physical activity. Formulated through the use of selected and high quality ingredients, it ensures the adult dog the correct intake of all the nutrients necessary for maintaining excellent physical shape.


Format, composition and instructions for use
FORMAT 3kg or 15kg
COMPOSITION Dehydrated animal protein (lamb 8%), maize, animal fat, wheat (7%), rice, hydrolyzed chicken protein, dried carob beans, dried citrus fruit, brewer's yeast, dried beet pulp, dehydrated fish protein, wood extract chestnut, sodium chloride.
ANALYTICAL CONSTITUENT Moisture 9.0%, crude protein 24.0%, crude oils and fats 12.0%, crude fiber 3.3%, crude ash 8.7%.
NUTRITIONAL ADDITIVES Vitamina A 10.000 U.I. – Vitamina D3 800 U.I. – Vitamina E 90 U.I. – Carbonato ferroso (Ferro) 100,00 mg – Iodato di calcio anidro (Iodio) 1,00 mg – Solfato rameico penta idrato (Rame) 29,40 mg – Ossido manganoso (Manganese) 39,00 mg – Ossido di zinco (Zinco) 98,00 mg – Selenito di sodio (Selenio) 0,13 mg. Antiossidanti.
INSTRUCTIONS FOR USE The product must be fed to your pet daily according to the weight of the dog, dividing it in two main meals and in case of a switch from other pet food, it is advised to do it gradually. Make small adjustments to the recommended quantities, described on the nutritional chart, based on the physiological conditions of the dog, activity and environmental factors. This product is a complete and balanced food, it does not need integrations. Feed the food to the dog as it is or add some water or broth to it, making sure to always provide your dog with a bowl of fresh water.
Proper nutrition guarantees your dog the right amount of nutrients and the
guarantees better health conditions for a longer life
Every age

| | | | | | | |
| --- | --- | --- | --- | --- | --- | --- |
| Adult weight | 5-10 kg | 10-20 kg | 20-30 kg | 30-40 kg | 40-50 kg | 50-60 kg |
| Ration in gr | 110-180 | 180-310 | 310-420 | 420-520 | 520-620 | 620-700 |