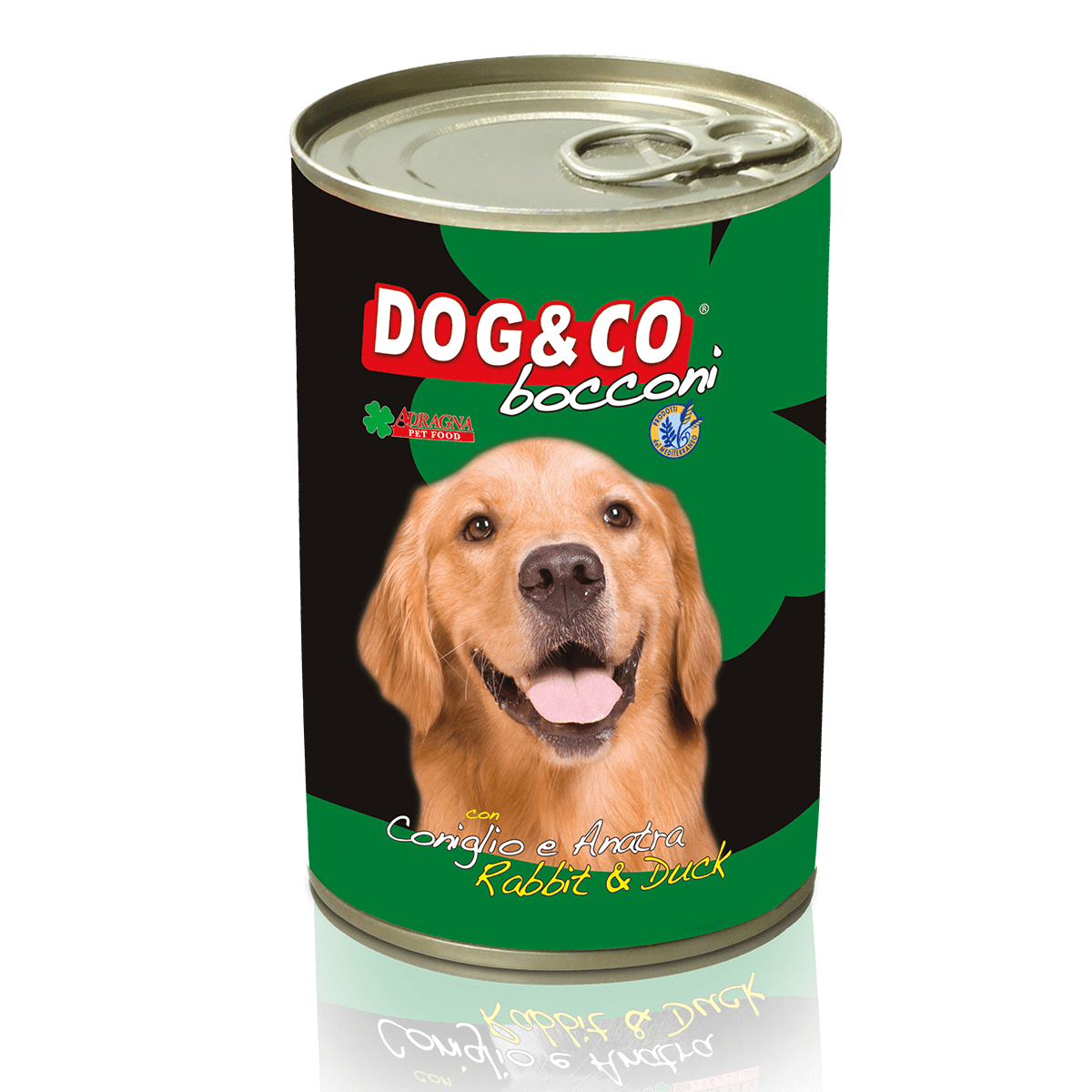 Dog&Co Chuncks

Rabbit and duck
Dog & co Bocconi - Rabbit and duck is the complete food formulated for feeding adult dogs that practice normal physical activity.
Format, composition and instructions for use
FORMAT 0,4kg or 1,25kg
COMPOSITION Meat and derivatives (rabbit 4.00%, duck 4.00%), cereals, minerals.
ANALYTICAL CONSTITUENT Humidity 80.00%, crude protein 7.00%, crude oils and fats 6.00%, crude fiber 1.20%, crude ash 3.00%.
NUTRITIONAL ADDITIVES Vitamin E (alpha-tocoterol 91%) 10 mg / kg. Cupric sulphate pentahydrate 8 mg / kg.
INSTRUCTIONS FOR USE The product is ready to use. It is not necessary to reheat. Store the product in a cool and dry place, do not expose directly to sunlight. Once opened, the product can be stored for 2 · 3 days in the refrigerator.
Proper nutrition guarantees your dog the right amount of nutrients and the
guarantees better health conditions for a longer life
Every age

| | | | | | | |
| --- | --- | --- | --- | --- | --- | --- |
| Adult weight | 1-5 kg | 5-10 kg | 10-20 kg | 20-30 kg | 30-45 kg | 45-60 kg |
| Ration in gr | 35-105 | 105-180 | 180-320 | 320-450 | 450-600 | 600-770 |
Dog&Co Chuncks

Rabbit and duck