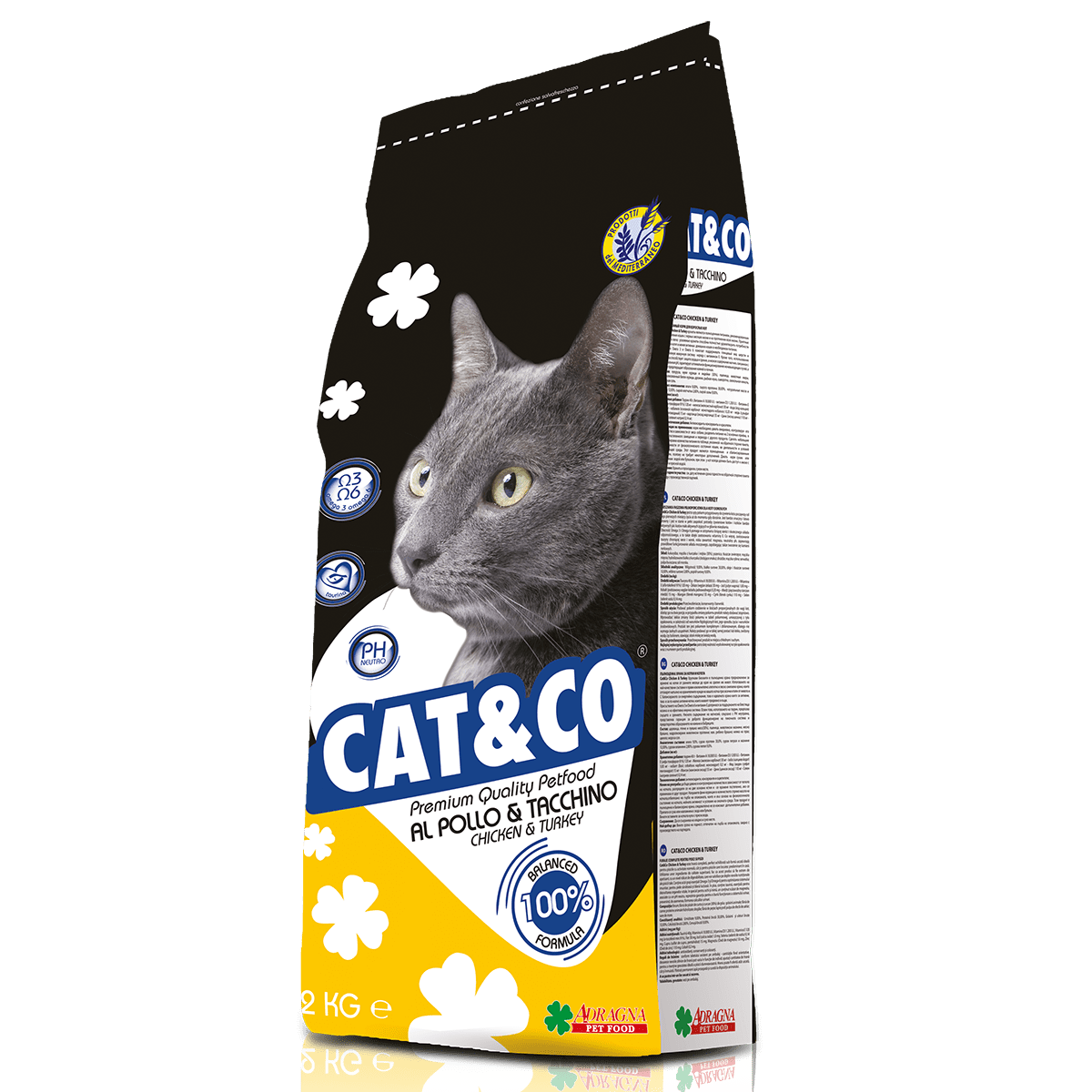 Cat&Co

Chicken and turkey
Cat & Co - Chicken and turkey is the complete food formulated for feeding cats from the first months of life and up to adulthood.
Format, composition and instructions for use
FORMAT 2kg or 20kg
COMPOSITION Corn; chicken and turkey meal (30%); wheat; animal fats; meat meal; hydrolyzed chicken proteins (appetitizer); brewer's yeast; fish meal; whey; beet pulp; sea salt.
ANALYTICAL CONSTITUENT Moisture 9.00%, crude protein 30.00%, crude oils and fats 12.00%, crude fiber 2.80%, crude ash 9.00%.
NUTRITIONAL ADDITIVES Taurine 40 g - Vitamin A 18,000 I.U. - Vitamin D3 1.200 I.U. - Vitamin E (alpha-tocopherol 91%) 120 mg - Iron (ferrous carbonate) 30 mg - Iodine (calcium iodate) 1.00 mg - Cobalt (basic cobalt carbonate monohydrate) 0.2 mg - Copper (copper sulphate penta hydrate) 15 mg - Manganese (manganous oxide) 55 mg - Zinc (zinc oxide) 110 mg - Selenium (sodium selenite) 0.14 mg; Technological additives: Antioxidants, Dyes and Preservatives.
INSTRUCTIONS FOR USE Administer the food in a controlled daily quantity based on the cat's weight, distributing it in two main meals, gradually replacing it in the case of switching from another product. Make slight adjustments to the quantities indicated on the feeding table, shown on the back of the package, based on the physiological conditions of the cat, its activity and environmental conditions. This product is a complete and balanced food, therefore it does not require any additions. Administer as it is or moistened with water or broth, always leaving a bowl of fresh water available to the cat. Store the product in a cool and dry place.
Proper nutrition guarantees your dog the right amount of nutrients and the
guarantees better health conditions for a longer life
Cat&Co

Chicken and turkey